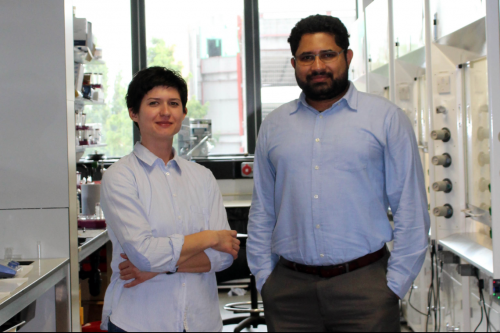 Grafine Ltd is a new business created to develop innovative high-performance rubbers, elastomers and other such soft materials enhanced with graphene – the extraordinary 2-dimensional material first produced in Manchester.
The business was founded by two University of Manchester academics, Dr Maria Iliut and Dr Aravind Vijayaraghavan. Both founders are world experts in graphene, and its use in making rubbers and elastomers stronger and more durable.
Grafine will be based at The University of Manchester's Innovation Centre on Grafton Street and will use the university's world-class facilities, including the new Graphene Engineering Innovation Centre (GEIC) for its product development work.
Grafine is offering a range of technical development services to manufacturing companies from around the world who wish to profit from the performance benefits that graphene can add to their products. Elastomers and rubbers are used world over in products such as tyres, shoes, gloves, industrial components, construction materials, coatings and medical devices.
Read the full article here.
James Baker, CEO of GEIC and Graphene@Manchester, will be speaking at the Global Graphene Expo, October 15-17th, Austin, TX
About the National Graphene Association
The National Graphene Association is the main organization and body in the U.S. advocating and promoting the commercialization of graphene. NGA is focused on addressing critical issues such as policy and standards development that will result in effective integration of graphene and graphene based materials globally. NGA brings together current and future graphene stakeholders — entrepreneurs, companies, researchers, developers and suppliers, investors, venture capitalists and government agencies — to drive innovation, and to promote and facilitate the commercialization of graphene products and technologies.
Join us at Global Graphene Expo & Conference, Oct 15-17, Austin, TX
https://lnkd.in/etnSFtZ
#NGAexpo #Graphene